Location: Ch

ișinău, Republic of Mol

dova
Type: Restaurant   
Project area: 200.8 sq. m
Project year: 2021
Graphic design: BRAND LOOK  
Photo: Oleg Bajura
A restaurant with its own authentic atmosphere, inspired by the spirit of the Roaring Twenties. 
The contrast of active colors, atmospheric lights and dynamic forms, create an eccentric feeling.
The total area of the restaurant is 200.8 sq. m., the dining space is located on the second floor and it  includes a total of 74 seats and the open terrace designed for  26 seats.


The main accent in the restaurant room on the second floor is this huge lighting object completed by a cider orange sofa with a strong visual accent. The bar area gives a luxury vibe through the lighting spots. The predominant colors are blue and orange but the gold wall accent adds value to the environment.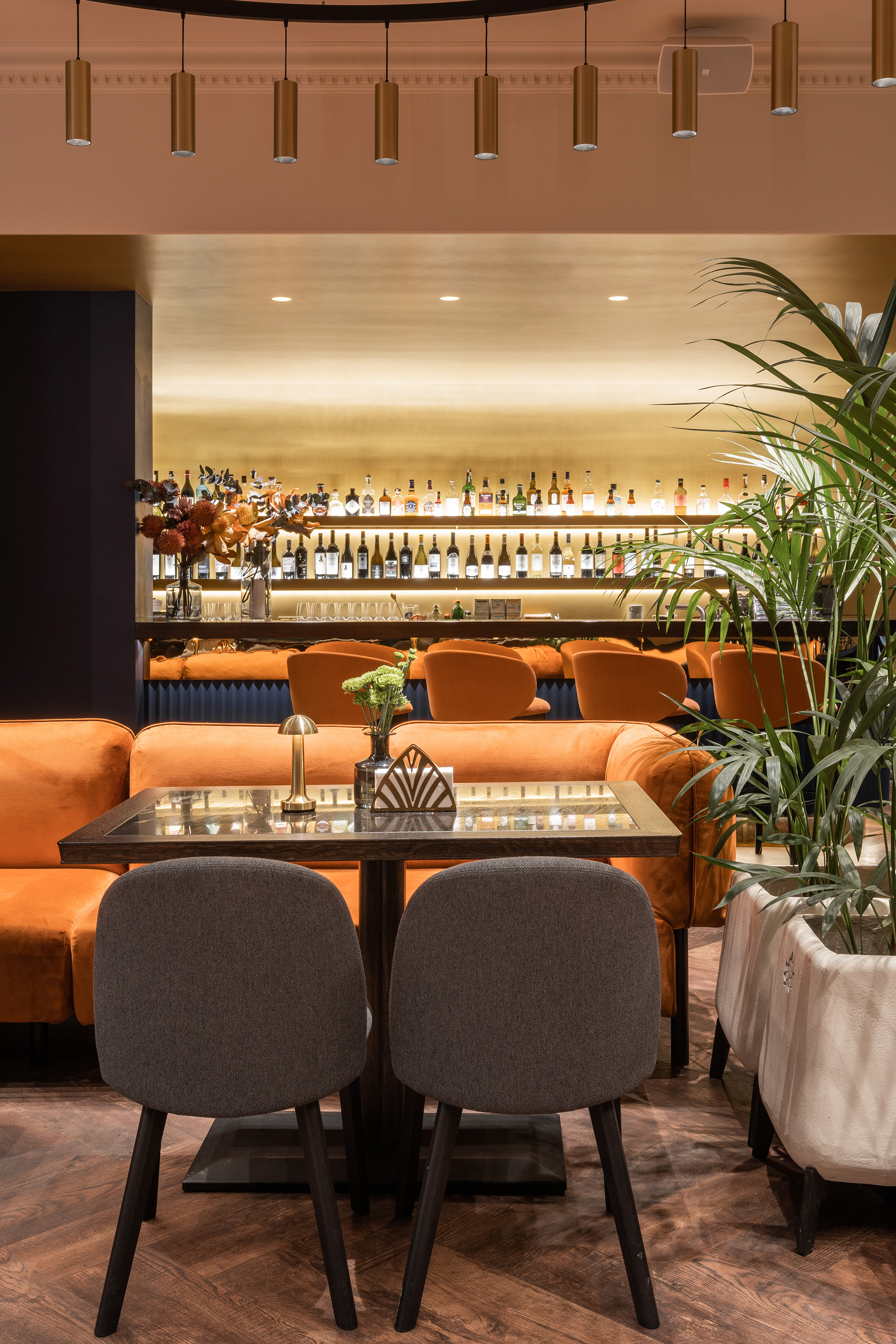 Feathers-the composition is made of the author's papier mache work. Height 1.40\1.60\1.80


Victoria Peev:
"I had only sketches of shapes and sizes. I let the bends, slopes and plasticity be born by itself during my work. By setting only the direction, I let the work be born by itself."
Pano-author's papier-mâché, Japanese clay, gold leaf/ potal.Diameter -800mm


Victoria Peev:
"I wanted not just to hang a pano as a piece of decor, but to create a kind of legend about the existence of a magical portal, and add a little bit of humor (based on the location of the pano). The back of the pano is painted the same color as the wall, the edges are folded inwards in some places, in order to create the feeling that the wall is wrapped in a golden portal and arouses the interest of the viewer to move from the real world to another fantasy world."